The 10 Buick Street residence hall at BU's Student village
The residence hall is in a modern high-rise apartment building on the campus of Boston University, with commanding views of the Charles River, Cambridge and Boston. It operates as a a hotel/guest-house during off-semester periods. We have reserved a number of suites, each with four private bedrooms and two shared bathrooms, a kitchen and a common area. Guests are supplied with bed and bath linens upon arrival. While daily maid service is not provided, guests can get fresh linens from the front desk. Please refer to the floor plan below for the layout of a typical suite. The price is USD 75 per night per person. Guests will be assigned by the organizers to single-gender suites unless otherwise specified. The reservation process allows groups of guests to request sharing a suite.
The Student Village is located a short (10 min) walk from the conference venue.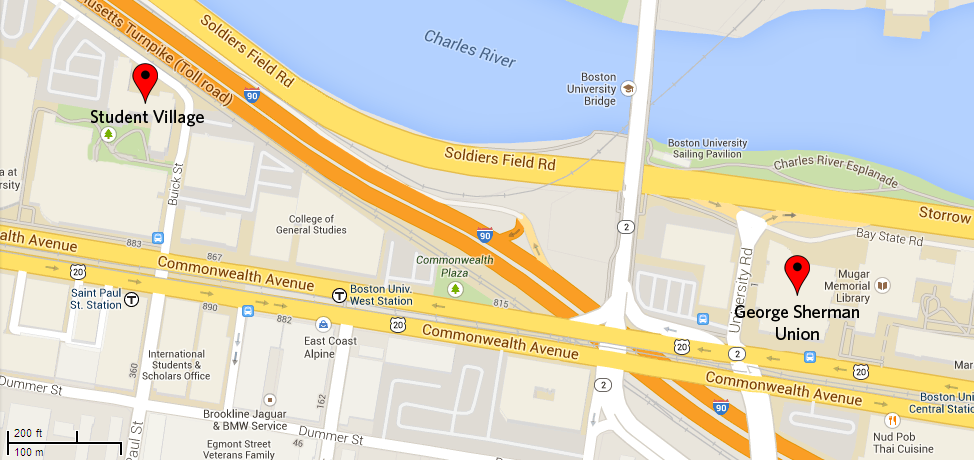 The 10 Buick Street residence has several common areas including a rooftop lounge, several small meeting rooms on the lower level, and a market located on the ground floor. Laundry facilities and vending machines are available in the building. The residence hall is located adjacent to Boston University's Fitness and Recreation Center. This 270,000 square foot facility features cardiovascular and weight equipment, two pools, a 35-foot high climbing wall, indoor elevated jogging track, seven multi-sport gyms, and courts for racquetball and squash. Memberships are available to conference guests for $12 per day or $30 for the week.
Rooms can be booked for the Aug 10-15 time window. Front desk staff will be available to assist guests with checking in to the residence on their designated arrival date beginning at 3:00pm. Guests must check out prior to 11:00am on their designated departure date. The front desk staff is also available on a daily basis to assist guests with both campus and general information.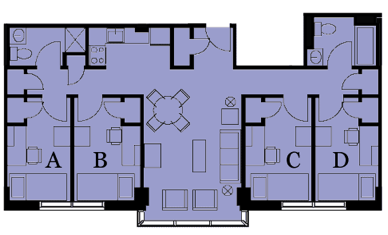 Typical floor plan for a four-bedroom suite at the 10 Buick Str Residence Hall.
To reserve a room at the 10 Buick Str residence hall, please go here (we can only accept prepayment by credit card).